"Easy Money" // ACH-47A // 64-13149

After Birth Control (#154) was destroyed at Hue on 22 Feb 68, Easy Money went to Boeing's Maintenance School at Vung Tau. She was deactivated in March of '68 and became a maintenance trainer. Easy Money was photographed with several versions of her combat artwork and the version shown here with the patches of units supported was sent to me by Richard Leisy. I believe this image below was the final updated artwork before it was painted over in Vung Tau.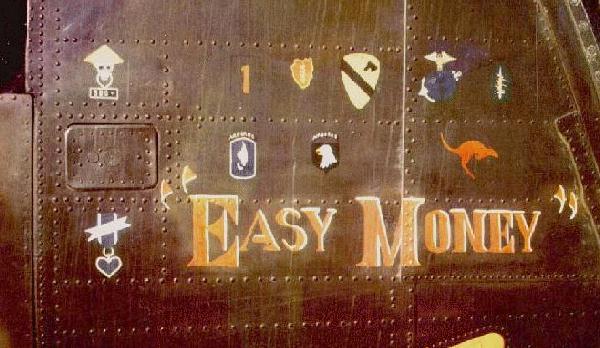 Rick said he got it from his Flight Engineer (SSG Len Demaray). Len was FE on Birth Control
when she went down at Hue and he came to C/228th after the Go-Go unit disbanded.

This is Hugh Buzzell. He was the last Flight Engineer for Easy Money's combat tour.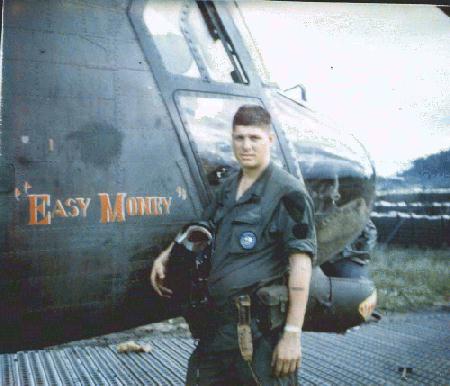 This is SP5 Hugh Buzzell at An Khe on the Golf Course. Looks like Easy Money
did indeed have some shark teeth on the 40mm grenade launcher. Photo / Hugh Buzzell.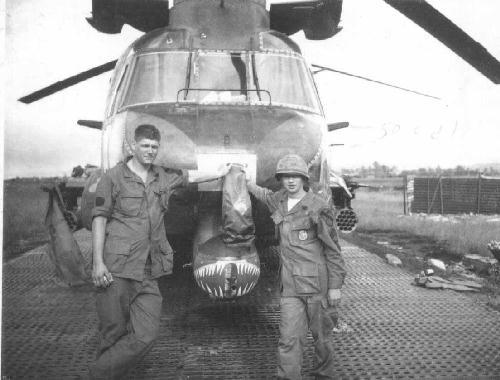 Another shot of Hugh Buzzell (left) and unknown (right). This is a better view of Easy Money's first shark teeth
on the 40mm grenade launcher. The teeth were painted by Armand "Lurch" Charpentier.
Anyone know the other guy? Photo / Hugh Buzzell.

11 Sep 99: Posting more photos from David Knudsen and David Borrego. Knudsen is
on the 'net and found the web site. He contacted Borrego for a 'get-together.' They
did and "copied" several photos for us. Their photos also covered Birth Control and
others could not identify which aircraft. There are new photos all over the place.
easy-01 ( David Borrego standing by weapons pylon. Dog tag FOUND! )
easy-02 ( David Borrego in front of Easy Money. )
easy-03 ( David Knudsen with Easy Money. Borrego and Knudsen are still buddies! )
easy-04 ( Easy Money - early days at An Khe - showing Go-Go patch and artwork. )
easy-09 ( Easy Money - Color photo - full dressed, combat artwork and shark's teeth. )
easy-vt ( After 1st Avn Det deactivated, EM went to Vung Tau as a maint trainer. )

| | |
| --- | --- |
| | If you have additional Guns-A-Go-Go information and/or pictures that you would like to share with this web site, please email: Jim Ketcham. |